One of the main features of Confluences…

Confluences Breakfast :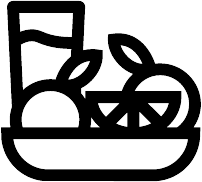 Organic Bread with sesame, sunflower, walnuts and raisins. lOO% fruit and sugar cane homemade jams, juice (orange, apple) and fresh eggs. The best way to start your day!
Vegetarian organic dishes on request.
Old recipes and new flavours. "Forgotten" vegetables such as orache, parsnips, amaranth, Jerusalem artichokes, cardoon and/or wild plants and berries, cereal tortillas, vegetable quiches, poultry from our own farm, etc.
Producing varies throughout the year, of course, depending on what is on offer in the garden in each season, and there are also regular themes:
A tour of spices, unknown cereals, mushrooms, etc.
Dinner: € 20 drinks not included.
* only on weekends, Friday and Saturday on reservation
Guest's Corner
Living room, library, chain HIFI, charts, binoculars, circuits excursions… With our good knowledge of the area, we can prepare you different circuits, adapted to your wishes.