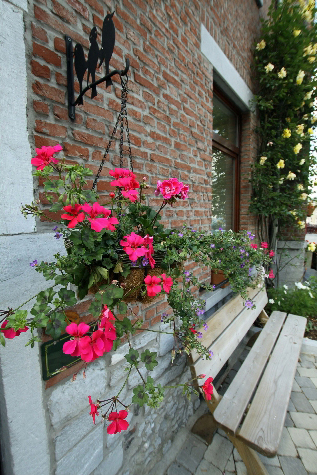 Walcourt, wonderful town in the south of Belgium…
We are situated on the banks of the Eau d'Heure lakes, at 30 kilometres from France, at the crossroads of several major hiking routes.
Between architecture and nature…
A stone's throw from the Basilica and within ancient city walls, classified by "Monuments et Sites", on the edge of the first road (now restored) leading to Walcourt square, which in the past was fortified.
bed and breakfast ardennes – Confluences
Guest house's accommodations
- Ground floor: living-room with kitchen area (oven, dishwasher, freezer, refrigerator,…), lavatory, TV, terrace, electrical heating and open fire.
- first floor: two 2-bed bedrooms and bathroom (shower) and separate lavatory, washing-machine and dryer.
- attic : one bedroom for four people.
Intended to be environment-friendly, the guesthouse is equipped with solar panels to provide hot water and with a system for collecting rainwater.
guesthouse
Confluences' Garden
Our old-fashioned garden is at your disposal with all its charm, surrounded by old stone walls, with traditional trees and flowers.
Tranquillity and peace turn it to an ideal place to relax and get your strength back.
Rates for the Guesthouse (2013):
- Low and middle seasons
Weekend: 180€ | Week: 215€
- High seasons
Week:325€
Deposit: 150€ | Cleaning: 28€ | Charges: depending on consumption