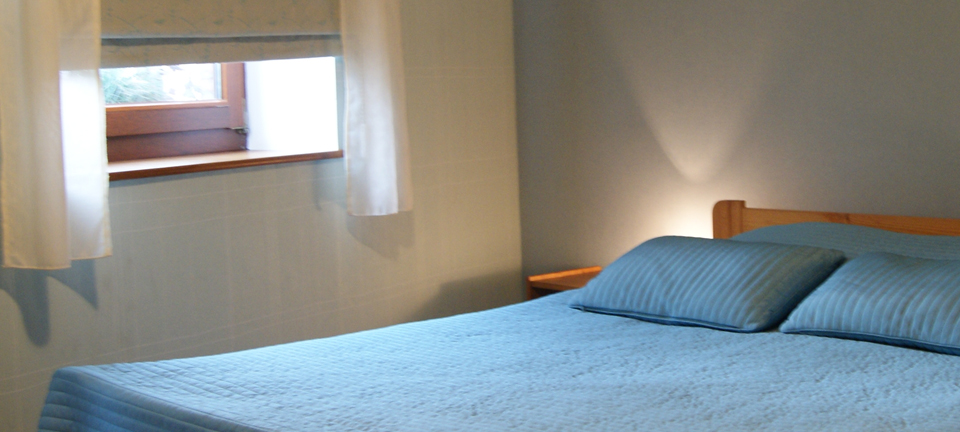 On the first floor, side of architectural heritage, with a beautiful view of the Basilica of Walcourt at sunset.
Room for 2 persons (double bed 160 x 200 cm)
We arehere in front of the house, sideof architectural heritage, in a room with clean lines, decorated in blue, bright and relaxing tones,with a view ofthe Basilica of Our Lady of Walcourtand its special architecture elements: gargoyles, sculptures… and the character is ticbulbous bell tower. This side, merrybells maywake you up, but fortunately not too early in the morning :at that timelunch,is already prepared on the table. And for those who donot want to hear,"phonic" windows are providing the comfort of sleeping.
A fountain, below on the square, represents pictorially the episode (or perhaps is it a legend?) of a visit of Emperor Charles V in 1531 in the city of Walcourt and the view of the Basilica is impressive.But "nature" aspect that is dear to us is not forgotten, represented here by theivy along the entire façade, with a rosetree in the opposite corner.Not to mention the plants and flowers,varieties, colors and sizes according to various periods, in planters on the window sills.Confluences is well known herefor its ornate and constantly renewed front of house,year after year and season after season…
More information :
Hearty breakfast: different kinds of bread, cheeses, yogurt, homemade jams and juice from our fruit harvest, eggs from our own breeding…
Oak floor
Phonic windows
Cooling under hot weather
Free WiFi
Private bathroom and WC
Towels and needed to shower
Tarifs
| | |
| --- | --- |
| Price for 1 night: | Price per night (2 to 4): |
| - 65 € per person | - 55 € for a person |
| - 70 € for 2 people | - 60 € for 2 people |
| - 95 € for 3 people | - 85 € for 3 people |
| - 115 € for 4 people | - 105 € for 4 people |
| Breakfast included | Breakfast included |